October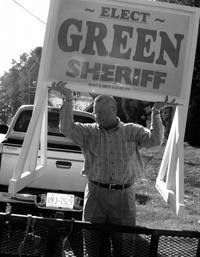 • Commissioners approved certificates of participation as a funding strategy for a new elementary school.

The board directed staff to investigate the use of COPS for the funding source. School board members continued with plans to start construction of the school in April of 2007, with a 2008 fall opening.

• The Franklin County Arts Council opened its membership drive.

• More than 900 students got an idea of farm life during the annual Ag Field Day at Riverbend Park. WRAL-TV Meteorologist Greg Fishel talked about the weather relative to agriculture success.

• An unloaded gun was taken from a Terrell Lane Middle School student without incident. Classmates reported the gun.

• The fifth case of rabies in the county was reported; a skunk tested positive for the disease.

• The Riverside campus Porch Building renovation project was closer to getting a state grant.

• Word was out that the 5th Battalion, 113th Field Artillery Unit of the local National Guard would be coming home by month's end.

• The Louisburg Utilities Department scrambled to keep water flowing as workers fixed a major water line break in the middle of Bickett Boulevard.

• Candidates met for debate at a Lake Royale forum.

• Louisburg College was managing its auditorium in new ways, attracting main headline attractions, such as the Oak Ridge Boys. That group performed to a sold out crowd.

• Milo Lewis of Pitt County won the first Sen. James D. Speed Achievement Award at the State Fair. The award was established by the Franklin County Cattlemen's Association in Speed's honor prior to his death earlier in the year.

• Plans for a new animal shelter were outlined for commissioners. The cost was estimated at just more than $1 million.

• Franklin Regional Medical Center got its second leader in a year's time. James Jeansonne was out; Brian Gwyn was in.

• Scrambled not fried. The Chamber of Commerce hosted candidates for the annual Eggs & Issues community discussion forum at Louisburg College. All candidates for the November election spoke.

• Curriculum issues received most of the attention during a Board of Education retreat in Raleigh.

• Ouch. Lots of flu shots were available for the 2006 flu season, following the previous year when vaccine shortages kept many from the preventive treatment.

• The Louisburg O. Henry Book Club marked its 75th anniversary.

• Charles Fuller of Franklinton High School was named Principal of the Year.
Printer-friendly format
---
---