FRONT PAGE
A quest to just catch fish has won Bunn High student Nick Bell a chance to win a national title later this month.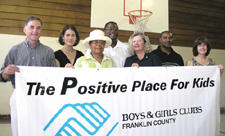 The local Boys and Girls Club has received its first major contribution — a $50,000 grant. The Office of Juvenile Justice and Delinquency Prevention awarded the grant to help launch the club and provide start-up money for this fall.
The Franklin County clerk of court has granted a preliminary injunction, temporarily barring the sale of a property that is being pushed as a new elementary school site.
Area artists are getting a chance for financial support through a grant program.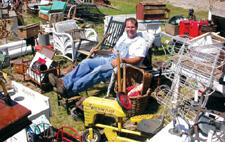 YOUNGSVILLE — Driving through the tapestry of this state you pass much of what used to be. Like a trail made through the woods, our lives leave signs like cups, saucers, lanterns, plates, pictures, books, photos and cloth.
OBITUARIES
FRANKLINTON - Fun-eral services for Mr. Gene "The Professor" Henderson, 65, who died Wednesday, June 28, 2006, were conducted Monday, July 3, at Richardson Funeral Home in Louisburg, with the Rev. William Garner officiating. Burial followed in the M. H. Jones family cemetery.
CASTALIA - Geneva Patterson Colbert, 96, died Saturday morning, July 1, 2006.
ZEBULON - Charles Oscar Kemp, 87, died Friday, June 30, 2006.
BUNN - Jerrie Mae Moore, 67, died Saturday, July 1, 2006 at home. A graveside service was conducted Tuesday, July 4, at 10 a.m. at the Brantley family cemetery on Brantley Town Road in Bunn.
SPORTS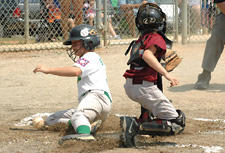 CHERRYVILLE - Bunn found an old rival -- and a new one -- waiting at the Dixie Youth Coach-Pitch State Tournament. During last Saturday's tourney opener, the All-Stars tangled with Leland -- the same contingent that defeated Bunn in last year's state championship game.

While I applaud Major League Baseball Commissioner Bud Selig on some of the recent changes to the game (interleague play, improved drug testing, etc.), one negative facet of the sport almost completely destroys his credibility.
LIFESTYLES
Stroke is a leading cause of
COMMUNITY NEWS
Franklin County sheriff's deputies arrested a Louisburg man on drug charges and may link him to a home robbery.
One hundred eighty-four golfers filled the Henderson Country Club course May 16 for competitive fun, food and to raise money for the Vance-Granville Community College Endowment Fund.