FRONT PAGE
Now that Thanksgiving 2006 is a memory, itís time to turn to the Christmas season. Local towns and groups already have it planned out. Holiday season activities will begin lighting up the area on Dec. 1 and culminate with a long-standing parade in one of Franklin Countyís closest communities.
Word from Louisburg Town Hall is negotiations with a Wal-Mart Supercenter off Highway 401 continue, despite the withdrawal of a site plan and statements from the developer that town regulations are too stringent. The town and county are progressing with a sewer line project along 401, which is, in part, to accommodate that development.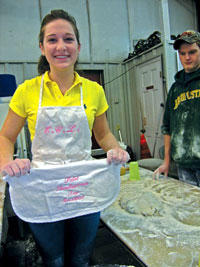 EARLY BIRDS. Hundreds of people turned out Thanksgiving morning at the Pilot Firehouse for the annual Pilot Lions Club Thanksgiving Day Breakfast. Emma Carol Lewis shows her special-made apron with her initials and the eventís name embroidered in pink. Lewis has been serving up biscuits and volunteering since she was 10 years old, she said. A typical breakfast serves more than 1,200 people, and this year brought a record crowd, organizers estimated. A donation of a guestís choice bought a plate full of fresh scrambled eggs, country ham, link sausage, grits and homemade biscuits. Juice, coffee and drinks were also flowing.
Franklin County commissioners ordered engineers to find out if Burlington Mills could become a county water source. A long-range study revealed that the countyís water demands would outpace supply as early as 2010, and staff has been looking to increase its capacities for years.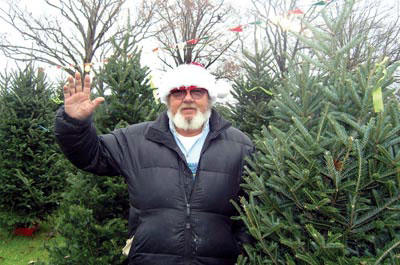 BUNN ó Since 1993, Charles Wilder has been making a trip to western North Carolina, seeing which fraser firs he wants to put on his lot in Bunn. If he makes the right choices, hundreds of others, it seems, are willing to make the trip to his property to find just the right Christmas tree to put in their home or business.
OBITUARIES
NASHVILLE - Funeral services for Mrs. Leona Evans Davis, 81, who died Wednesday, Nov. 22, 2006, will be conducted at 11 a.m. today (Saturday, Nov. 25) at Social Union Baptist Church, with the Rev. Nathaniel Bunn officiating. Burial will follow in the church cemetery.
DURHAM - Mrs. Virginia Bell Richards, 80, died Tuesday, Nov. 21, 2006. Funeral services will be conducted at 11 a.m. today (Saturday, Nov. 25) at Gorman Baptist Church, with the Rev. Adam Hatley, the Rev. Julian Motley and Luke Richards officiating. Burial will be in Oak Grove Memorial Gardens.
SPORTS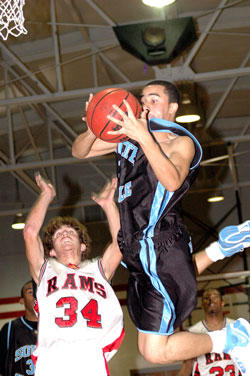 FRANKLINTON ó With slick, veteran guard Justin Williams running the show, look for the South Granville Vikings to win plenty of games this season.
The first one came Tuesday at Franklinton.
The young Red Rams, with zero returning starters from 2005-06, were competitive with the Vikings for one half before SG pulled away after the break to secure a 68-44 decision over Clarence Walkerís FHS club.
Franklinton, now 0-3, is still looking for its initial victory, while the Vikings improved to 1-1, with their loss coming against traditional power Durham Mt. Zion.
LOUISBURG ó Itís still November, and the Louisburg College menís basketball squad has already matched its victory total from last season (six). Certainly, the Hurricanes, under first-year coach Aaron Denton, have been playing well early on, including four impressive victories over the past week.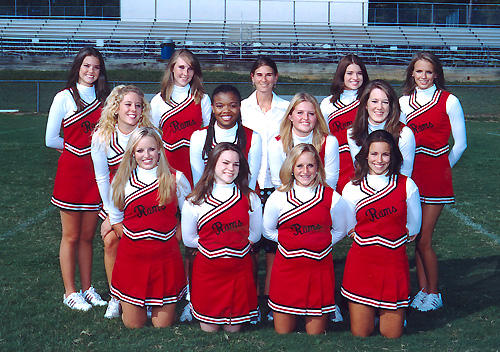 FRANKLINTON -- Each season, the Franklinton Red Rams have performed progressively better at the North Carolina High School Athletic Association Cheerleading Championships. Which means FHS could be in store for a milestone moment in 2007.
Louisburg High School racked up 5,116 total rushing yards and 470 points en route to posting a 9-4 record on the football field this season. But LHS head coach James Collier is convinced that even bigger things are yet to come for his Warriors.
COMMUNITY NEWS
A Kerr-Tar hub committee could decide if the countyís newly purchased property is hub site material in a matter of weeks.
On Monday, commissioners agreed 5-2 to pay a total of at least $2.68 million to procure nearly 230 acres near the Franklin County Airport for the purposes of a hub.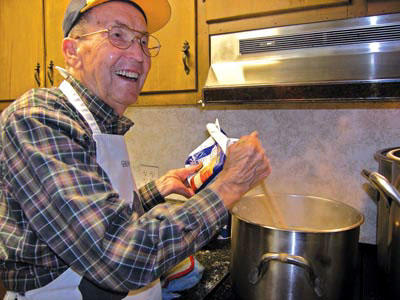 COMMUNITY EFFORT. The Pilot Lions Club has been hosting a Thanksgiving Day breakfast since 1978. Dozens of volunteers prepare the meal, starting as early as 4 a.m. to get ready, having worked well into the night before. Above, Cameron Stallings whips up his famous grits; he was prepared to cook up to 35 pounds.
PREP FOOTBALL
BUNN ó Trailing by one point early in the third quarter, Clinton got things going in the Nick of time.
And in the process, the Bunn defense got Nicked up during a 34-16 loss to Clinton in the third round of the Class 2-A State Playoffs at the BHS Football Field.
Before the game, BHS head coach David Howle promised that Clinton running back Nick Cooper would be a load for his team -- or any other, for that matter -- to handle.
Cooper didnít disappoint, rushing for a whopping 206 yards on 36 carries while leading the defending state champion Dark Horses into the East Regional Finals.