Subscribe/Access
Features
Back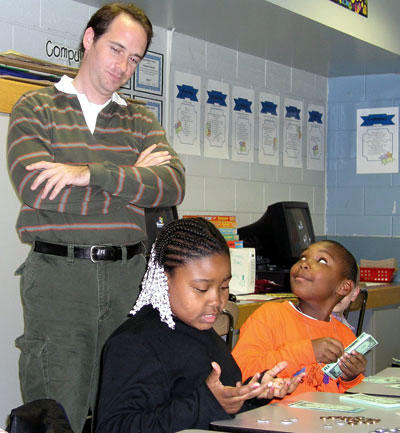 MONEY MATTERS. Fourth-grade teacher Randy Lent, standing, helps his students with math skills by teaching them to count money. Students Danesha Seward and Tyree Dunston look for guidance.

Math scores plummet with higher standards
Raised standards for math scores for third- through eighth-graders sent scores across the state plummeting, including those in Franklin County. The state Board of Education raised the passing bar for math tests to bring the state's standards in line with those of the federal government.
Read More | Post Comment
By CAREY JOHNSON, Times Staff Writer - 4 opinions posted
Franklinton H2O tainted; upgrades now in place
FRANKLINTON — Town officials expect a recent upgrade to the water system to reduce contaminants that, in high concentrations and left unchecked, could lead to cancer. In early October, the town sent its residents letters that its water system violated drinking water standards.
Read More | Post Comment
By CAREY JOHNSON, Times Staff Writer - 4 opinions posted
Time for tricks or treats
From Staff Reports
Franklin County towns are setting aside a uniform two-hour period on Tuesday for trick-or-treat revelers.
All towns will allow trick-or-treaters to knock on doors and ring doorbells from 6-8 p.m. on Tuesday.
Some towns, though, are also having additional activities.
In Youngsville, the community will host a Halloween Carnival at the Youngsville Armory from 6:30-8 p.m. In Bunn, area churches will host Trunk-or-Treat, which will take place on Franklin Street between 5:30 p.m. and 8 p.m. And Franklinton's Arts Alive Committee will host its first Great Pumpkin Pageant in front of Franklinton High School. It begins at 5:30 p.m.
Prizes will be given and the pumpkins will be on display in front of the school. For more information, contact Town Hall at 494-2520.

Read More | Post Comment
Franklinton man recovering from shock
A painter working at a local bank was rushed to the hospital last weekend after making contact with an electrical line. According to a Louisburg Police Department response report, Jonathan Proctor, 20, of Tuckers Lane in Franklinton was part of a painting crew at Community National Bank on Bickett Boulevard when the incident occurred.
Read More | Post Comment
From Staff Reports - 1 opinion posted
Franklinton candidates' forum warmed it up for Nov. 7
FRANKLINTON — Sitting inside the Franklinton High School auditorium, Brenda Chitty had county and state candidates on her turf — literally. The Franklinton resident who has a vested interest in the school wanted to know what leaders could do to improve the aging high school.
Read More | Post Comment
By CAREY JOHNSON, Times Staff Writer - 1 opinion posted
Kittrell man killed in wreck
YOUNGSVILLE — A Kittrell man was killed Tuesday morning when he pulled into the path of a tractor trailer. According to a report by Highway Patrol Trooper T. W. Allen, MacDonald Joyner, 74, of Kittrell, was driving a 1980 Ford pickup truck south on U.S. Highway 1 when he attempted to turn left onto U.S. 1-A.
Read More | Post Comment
From Staff Reports
Hicks' heroics send Louisburg into state quarters
LOUISBURG — Predictablity at the net usually spells doom for a high school volleyball squad against a quality opponent.
But not when your superstar middle hitter's name is spelled B-R-I-T-T-A-N-Y.
Those letters added up to victory Thursday for the Louisburg Lady Warriors during a tough five-game decision over Manteo in the third round of the Class 1-A State Playoffs at the LHS Gymnasium.
Read More | Post Comment
By Geoff Neville, Times Sportswriter
Weekend busy for LC squads
LOUISBURG — Louisburg College's campus -- along with Warrior Field at Louisburg High -- will be busy with athletic activities this weekend. LC's men's and women's soccer teams will host the annual Region X Tournaments beginning today.
Read More | Post Comment
From Staff Reports
LC women look solid for '06-07
When the 2005-06 season ended, the Louisburg College Lady Hurricanes had only seven roster players, meaning several of the performers were forced to spend all 40 minutes on the floor during close games.
Look for a completely opposite scenario this winter, as the Lady Hurricanes boast a strong recruiting class to complement the five talented returnees from a club that went 25-2 and came within one game of making an appearance in the National Junior College Athletic Association National Tournament.
Read More | Post Comment
Geoff Neville
Red Rams Roar To Top
FRANKLINTON -- The Franklinton Red Rams wrapped up a share of the Northern Carolina Conference boys soccer championship Wednesday with a 2-0 home victory over Southern Vance at the Franklinton Recreation Park.
Read More | Post Comment
From Staff Reports
Bunn Nearly Flawless During Road Victory
ROANOKE RAPIDS -- Despite playing in a persistent downpour, Bunn committed only one turnover during a 50-0 road triumph Friday over Northern Carolina Conference rival Roanoke Rapids. That miscue came late in with BHS' third-team substitutes in the contest -- long after the Wildcats had sealed a decision that pushed their record to 9-1 overall and 3-1 in the NCC.
Read More | Post Comment
From Staff Reports
LHS Moves Into Second In TRAC
WELDON -- Needing a victory to solidify their postseason seed, the Louisburg Warriors came through in a big way Friday at Weldon. LHS spoiled the Mighty Chargers' homecoming with a 42-6 decision that, barring a final-week disaster, all but wrapped the second spot in the Tar-Roanoke Athletic Conference for the Warriors.
Read More | Post Comment
From Staff Reports - 1 opinion posted
A Near-Miss For Franklinton At Northwest
AURELIAN SPRINGS -- Franklinton's best effort of the season brought the Red Rams to the cusp of at least overtime Friday night at Northwest Halifax. Trailing by seven points in the waning moments of the game, FHS drove deep into Northwest territory, only to fumble at the 4-yard line with 1:14 remaining.
Read More | Post Comment
From Staff Reports
BRUCE DAVID LIESEGANG
RALEIGH - The fish in Kerr Lake are resting easier these days as one of their fiercest predators has gone to be with The Lord. Bruce David Liesegang died Tuesday, October 24th at UNC Hospital in Chapel Hill.
Read More | Post Comment

DONALD RAY SKIPPER SR.
LOUISBURG - Funeral services for Donald Ray Skipper Sr., 68, who died Friday, Oct. 20, 2006, were conducted Tuesday, Oct. 24, at Perry's Missionary Batist Church, with the Rev. Randolph Alston officiating. Burial followed in the Ellis family cemetery.
Read More | Post Comment

ELEANOR S. BARNES
LOUISBURG - Funeral services for Eleanor Stewart Barnes, 88, who died Tuesday, Oct. 24, 2006 will be conducted at 2 p.m. Sunday, Oct. 29, at First Baptist Church of Louisburg, with the Rev. Claude Dunston officiating. Burial will follow in the Cedar Street Cemetery.
Read More | Post Comment

JAMES P. KING
HENDERSON - James Pettis "Pet" King, 85, formerly of Norlina and Warrenton, died Thursday, Oct. 26, in Louisburg. A graveside service will be conducted at 3 p.m. Sunday, Oct. 29, at Wise Baptist Church cemetery by the Rev. Milton Abbott and the Rev. Frank Sossamon.
Read More | Post Comment

JAMES V. WELLS
ZEBULON - James Vincent Wells, 68, died Wednesday, Oct. 25, 2006. Funeral services will be conducted at 3 p.m. today (Saturday, Oct. 28) at Bailey Baptist Church. Burial will follow at Bailey Town Cemetery.
Read More | Post Comment

LEOLA T. PERRY
FRANKLINTON - Leola T. Perry, 97, died Wednesday, Oct. 25, 2006. Funeral services will be at 10:30 a.m. today (Saturday, Oct. 28) at First Baptist Church. Burial will follow in Evergreen Cemetery. Arrangements by Cutchins Funeral Home.
Read More | Post Comment

LUNY L. BUFFALOE
ZEBULON - Luny Lafayette Buffaloe, 74, died Thursday, Oct. 26, 2006 at Rex Healthcare Emergency Room. Funeral services will be conducted at 2 p.m. today (Saturday, Oct. 28) at L. Harold Poole Funeral Service chapel in Knightdale, with the Rev. Phil Brantley officiating. Burial will follow in the Rolesville Baptist Church cemetery, Averette Road, Rolesville.
Read More | Post Comment